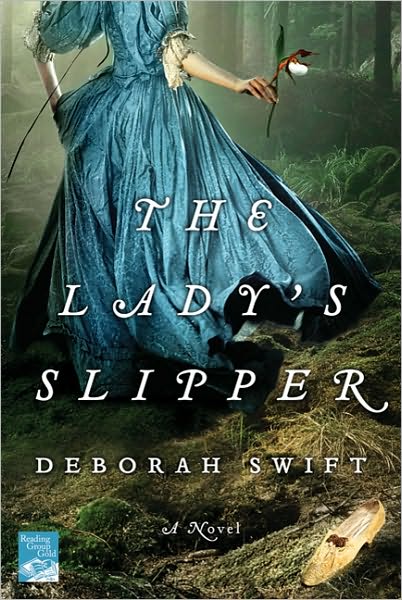 Publish Date: November 2010
Format: Paperback 464pp
Synopsis: (From the Publisher)
"1660. King Charles II has returned from exile, but memories of the English Civil War still rankle. There are old scores to settle, and religious differences threaten to overturn a fragile peace. When Alice Ibbetson discovers a rare orchid, the Lady's Slipper, growing in a wood belonging to Richard Wheeler, she is captivated by its beauty— though Wheeler, a Quaker, is determined to keep the flower where God intended it to grow. Knowing that the orchid is the last of its kind, she steals the flower, little dreaming that her seemingly simple act will set off a chain of events that will lead to murder and exile, and change her life forever…"
My Review:
Alice Ibbetson has known much sorrow in her life: from the tragic loss of her family home during the war, quickly followed by her parents death and then the loss of her beloved sister soon after. With all of this tragedy, Alice thought she had endured every hardship possible; that is until her bleak life is thrown into great chaos by one small act of deception.
Fearing retribution, Alice desperately attempts to conceal her secret from all, but when her lies begin to bring danger to those around her, she realizes that nothing can be kept secret forever or come without a price. As the lives of three people are intertwined through her wrong deed, Alice must learn how to save them all before her lies destroy them.
With her debut novel,
The Lady's Slipper
, Deborah Swift has definitely proven her talent in writing historical fiction! From beginning to end the story flowed with perfect rhythm and intrigue. While the plot was not fast paced, it never once left me wanting to hurry on to the next chapter. The characters were vastly deferent and confident opinions could be made of them all. My favorite part of this novel was how easily the author could make you feel as if you were really walking through the woods as Alice went on her secretive missions. At these times, the tone changed to a sense of trepidation mixed with thrill, you could almost feel the silence surrounding you deep within the woods. The only part of this novel that I felt a bit lacking was the romantic relationship between Wheeler and Alice. While I knew their differences must be settled in the end and the two truly cared for each other, I wish there had been a bit more build up to the realization of their feelings instead of it being so rushed at the end. Besides this little quibble, I am completely thrilled with this new author and I can't wait to see what delights she will write for us in the future!
FTC: I received this book from the publisher. As always, these are my own honest opinions.
Copyright © 2011 Svea Love. All Rights Reserved.