My Notorious Life: A Novel by Kate Manning
Publication date: 9/10/2013
Format: Hardcover 448pp
Synopsis (From the Publisher):
"A brilliant rendering of a scandalous historical figure, Kate Manning's My Notorious Life is an ambitious, thrilling novel introducing Axie Muldoon, a fiery heroine for the ages.
Axie's story begins on the streets of 1860s New York. The impoverished child of Irish immigrants, she grows up to become one of the wealthiest and most controversial women of her day.
In vivid prose, Axie recounts how she is forcibly separated from her mother and siblings, apprenticed to a doctor, and how she and her husband parlay the sale of a few bottles of "Lunar Tablets for Female Complaint" into a thriving midwifery business. Flouting convention and defying the law in the name of women's reproductive rights, Axie rises from grim tenement rooms to the splendor of a mansion on Fifth Avenue, amassing wealth while learning over and over never to trust a man who says "trust me."
When her services attract outraged headlines, Axie finds herself on a collision course with a crusading official—Anthony Comstock, founder of the Society for the Suppression of Vice. It will take all of Axie's cunning and power to outwit him in the fight to preserve her freedom and everything she holds dear.
Inspired by the true history of an infamous female physician who was once called "the Wickedest Woman in New York," My Notorious Life is a mys­tery, a family saga, a love story, and an exquisitely detailed portrait of nineteenth-century America. Axie Muldoon's inimitable voice brings the past alive, and her story haunts and enlightens the present."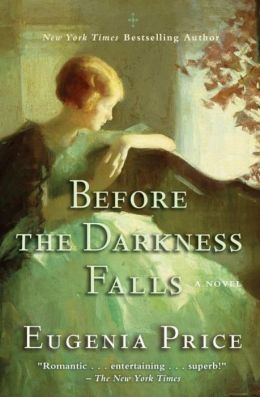 Before the Darkness Falls by Eugenia Price
Publication date: 9/10/2013
Format: Reprint, Paperback 560pp
Synopsis (From the Publisher):
"Georgia, 1842. In this grand and passionate era of American history, forged by the dreams of extraordinary men and women, the McKay, Browning, and Stiles families find themselves experiencing love, hardship, and pain in the great Southern city of Savannah. The willful Natalie Browning Latimer's newfound marital bliss has been threatened by a shattering loss, while the ambitious W. H. Stiles becomes wrapped up in a daring political trail that leads his family into the turmoil of Western Europe. Natalie's brother Jonathan Browning shocks the family by dropping out of Yale to be with the one woman who could never be welcomed into Savannah society. As the families struggle to maintain their deep love for one another, the South struggles to justify its connection to the Union and moves toward succession."
Songs of Willow Frost by Jamie Ford
Publication date: 9/10/2013
Format: Paperback 352pp
Synopsis (From the Publisher):
"From Jamie Ford, the New York Times bestselling author of the beloved Hotel on the Corner of Bitter and Sweet,comes a much-anticipated second novel. Set against the backdrop of Depression-era Seattle, Songs of Willow Frost is a powerful tale of two souls—a boy with dreams for his future and a woman escaping her haunted past—both seeking love, hope, and forgiveness.
Twelve-year-old William Eng, a Chinese American boy, has lived at Seattle's Sacred Heart Orphanage ever since his mother's listless body was carried away from their small apartment five years ago. On his birthday—or rather, the day the nuns designate as his birthday—William and the other orphans are taken to the historical Moore Theatre, where William glimpses an actress on the silver screen who goes by the name of Willow Frost. Struck by her features, William is convinced that the movie star is his mother, Liu Song.
Determined to find Willow and prove that his mother is still alive, William escapes from Sacred Heart with his friend Charlotte. The pair navigate the streets of Seattle, where they must not only survive but confront the mysteries of William's past and his connection to the exotic film star. The story of Willow Frost, however, is far more complicated than the Hollywood fantasy William sees onscreen.
Shifting between the Great Depression and the 1920s, Songs of Willow Frost takes readers on an emotional journey of discovery. Jamie Ford's sweeping novel will resonate with anyone who has ever longed for the comforts of family and a place to call home."
To See Your Face Again by Eugenia Price
Publication date: 9/10/2013
Format: Reprint, paperback 512pp
Synopsis (From the Publisher):
"Natalie Browning was a spoiled belle of sixteen when she met the man of her dreams aboard the steamship Pulaski.Burke Latimer, only eight years her senior, was a self-made man with no time for a pretty child. Then a night of terror ended the voyage and Burke discovered another Natalie. But the night that brought him love also wreaked disaster on his fortune, and Burke was forced to ask Natalie to wait until he could make a home worthy of her. Life had never denied Natalie before. Her need to be with Burke drove her to follow him to Geogia's back country, hoping to show him she was ready to be his bride. Could she grow up before she lost the love of her life forever?
With a compelling mix of historical personalities and fictional characters, Eugenia Price paints a vivid portrait of the Old South that has enchanted readers worldwide. This is the second book in the Savannah Quartet, continuing the story of the Browning and Mackay families with the attention to detail, sympathy for humanity, and intimate family history that are Eugenia Price's hallmarks."
The Fountain of St. James Court;
or, Portrait of the Artist as an Old Woman: A Novel by Sena Jeter Naslund
Publication date: 9/17/2013
Format: Paperback, 448pp
Synopsis (From the Publisher):
"Is it a crime to live? To create happiness for yourself through your own work?"

How do writers and painters get their ideas? And what are the hard realities of such seemingly glamorous and romantic lives? In her groundbreaking new novel, New York Times bestselling author Sena Jeter Naslund explores the transformative power of art, history, and love in the lives of creative women.
It's midnight on St. James Court, at the heart of which is a beautiful fountain sculpture of Venus rising from the sea. Kathryn Callaghan has just finished the first draft of her novel about renowned painter Élisabeth Vigée-Le Brun, a survivor of the French Revolution who was hated for her sympathetic portraits of Marie Antoinette. Although the manuscript is complete, its author remains haunted by Élisabeth's experiences, which are revealed in Sena Jeter Naslund's ingenious novel-within-a-novel interleaved with the chronicle of a day in the life of Kathryn Callaghan. Despite being separated by time, place, and culture, Kathryn and Élisabeth possess similar gifts and burdens: uncompromising aesthetic codes, fierce pride in their artistic expression, and unwavering love and sacrifice for their children. And before the next midnight rolls around, Kathryn will have confronted personal danger as frightening as the butchery that Élisabeth faced during the Reign of Terror. Each woman will be called upon and tested; each will, like Venus, rise triumphantly above the expectations of her world.
In this, her compelling and intimate ninth book, Sena Jeter Naslund presents the reader with an eye-opening alternate vision of The Artist: not an angry young man but a woman of age and hard-won experience who has created for herself, against enormous odds, a fulfilling life of thoroughly realized achievement."
Confessions of Marie Antoinette: A Novel by Juliet Grey
Publication date: 9/24/2013
Format: Paperback, 464pp
Synopsis (From the Publisher):
"A novel for fans of Philippa Gregory and Michelle Moran, Confessions of Marie Antoinette blends rich historical detail with searing drama, bringing to life the first years of the French Revolution and the final days of the legendary French queen.
Versailles, 1789. As the burgeoning rebellion reaches the palace gates, Marie Antoinette finds her privileged and peaceful life swiftly upended by violence. Once her loyal subjects, the people of France now seek to overthrow the crown, placing the heirs of the Bourbon dynasty in mortal peril.
Displaced to the Tuileries Palace in Paris, the royal family is propelled into the heart of the Revolution. There, despite a few staunch allies, they are surrounded by cunning spies and vicious enemies. Yet despite the political and personal threats against her, Marie Antoinette remains, above all, a devoted wife and mother, standing steadfastly by her husband, Louis XVI, and protecting their young son and daughter. And though the queen secretly attempts to arrange her family's rescue from the clutches of the rebels, she finds that they can neither outrun the dangers encircling them nor escape their shocking fate."
Rising Sun, Falling Shadow by Daniel Kalla
Publication date: 9/24/2013
Format: Paperback 352pp
Synopsis (From the Publisher):
"Return to World WAr II Shanghai in Dan Kalla's thrilling historical novel Rising Sun, Falling Shadow, the sequel to The Far Side of the Sky
It's 1943 and the Japanese juggernaut has swallowed Shanghai and the rest of eastern China, snaring droves of American and British along with thousands of "stateless" German Jewish refugees. Despite the hostile environs, newlyweds Dr. Franz Adler and his wife, Sunny, adjust to life running the city's only hospital for refugee Jews.
Bowing to Nazi pressure, the Japanese force twenty thousand Jewish refugees, including the Adlers, to relocate to a one-square-kilometer "Shanghai Ghetto." Heat, hunger, and tropical diseases are constant threats. But the ghetto also breeds miraculous resilience. Music, theater, sports, and Jewish culture thrive despite what are at times subhuman conditions.
Navigating subversion and espionage, Nazi treachery and ever-worsening conditions while living under the heel of the Japanese military, the Adlers struggle to keep the hospital open and their family safe and united."
Royal Inheritance by Kate Emerson
Publication date: 9/24/2013
Format: Paperback 368pp
Synopsis (From the Publisher):
"Audrey Malte is illegitimate, though her beloved father—tailor to King Henry VIII—prefers to call her "merry-begot," saying there was much joy in her making. Then Audrey visits the royal court with her father, and the whispers start about Audrey's distinctive Tudor-red hair and the kindness that the king shows her. Did dashing Henry perhaps ask Malte to raise a royal love child? The king's favor, however, brings Audrey constraint as well as opportunity. Though she holds tender feelings for her handsome music tutor, John Harington, the king is pressuring her to marry into the family of treacherous, land-hungry Sir Richard Southwell. Audrey determines to learn the truth about her birth at last. The answer may give her the freedom to give her heart as she chooses . . . or it could ensnare her deeper in an enemy's ruthless scheme."
Copyright © 2013 Svea Love. All Rights Reserved.