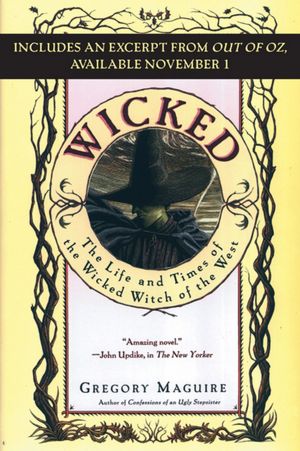 Wicked by Gregory Maguire: 1.99
Synopsis (From the Publisher):
"For a limited time at a special price, go back to where The Wicked Years all began—and read excerpts from the rest of the series, including the masterly final book, Out of Oz, available November 1.
When Dorothy triumphed over the Wicked Witch of the West in L. Frank Baum's classic tale, we heard only her side of the story. But what about her arch-nemesis, the mysterious Witch? Where did she come from? How did she become so wicked? And what is the true nature of evil?
Gregory Maguire creates a fantasy world so rich and vivid that we will never look at Oz the same way again. Wicked is about a land where animals talk and strive to be treated like first-class citizens, Munchkinlanders seek the comfort of middle-class stability, and the Tin Man becomes a victim of domestic violence. And then there is the little green-skinned girl named Elphaba, who will grow up to become the infamous Wicked Witch of the West, a smart, prickly, and misunderstood creature who challenges all our preconceived notions about the nature of good and evil."
Searching for Pemberly by Mary Lydon Simonsen: 1.99
Synopsis (From the Publisher):
"History, romance, and even a little mystery all combined in one wonderful book."
Best Sellers World, Five Star Review
Maggie went in search of a love story, but she never expected to find her own...
Desperate to escape her life in a small Pennsylvania mining town, Maggie Joyce accepts a job in post-World War II London, hoping to find adventure. While touring Derbyshire, she stumbles upon the stately Montclair, rumored by locals to be the inspiration for Pemberley, the centerpiece of Jane Austen's beloved Pride and Prejudice.
Determined to discover the truth behind the rumors, Maggie embarks on a journey through the letters and journals of Montclair's former owners, the Lacey family, searching for signs of Darcy and Elizabeth.
But when the search introduces her to both a dashing American pilot and a handsome descendant of the "Darcy" line, Maggie must decide how her own love story will end..."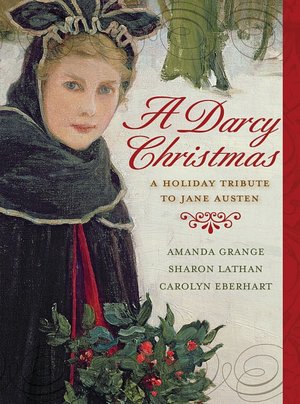 A Darcy Christmas
by Amanda Grange, Sharon Lathan, Carolyn Eberhart: 1.99
Synopsis (From the Publisher):
"Mr. and Mrs. Darcy Wish You a Very Merry Christmas and a Happy New Year!
Share in the magic of the season in these three warm and wonderful holiday novellas from bestselling authors.
Christmas Present
by Amanda Grange
A Darcy Christmas
by Sharon Lathan
Mr. Darcy's Christmas Carol
by Carolyn Eberhart"
Darcy and Fitzwilliam by Karen Wasylowski: 1.99
Synopsis (From the Publisher):
"A gentleman in love cannot survive without his best friend...
Fitzwilliam Darcy and Colonel Fitzwilliam couldn't be more different, and that goes for the way each one woos and pursues the woman of his dreams. Darcy is quiet and reserved, careful and dutiful, and his qualms and hesitations are going to torpedo his courtship of Elizabeth. His affable and vivacious cousin, Colonel Fitzwilliam is a military hero whose devil-may-care personality hides the torments within, until he finds himself in a passionate, whirlwind affair with a beautiful widow who won't hear of his honorable intentions.
Cousins, best friends, and sparring partners, Darcy and Fitzwilliam have always been there for each other. So it's no surprise when the only one who can help Darcy fix his botched marriage proposals is Fitzwilliam, and the only one who can pull Fitzwilliam out of an increasingly dangerous entanglement is Darcy..."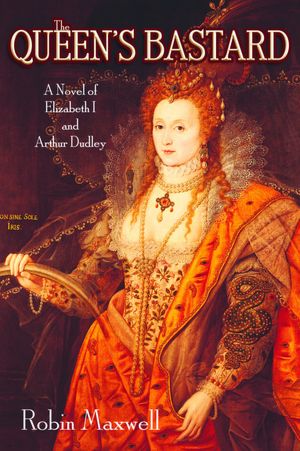 The Queen's Bastard by Robin Maxwell: 1.99
Synopsis (From the Publisher):
"Historians have long whispered that "the Virgin Queen" Elizabeth's passionate, lifelong affair with Robin Dudley, Earl of Leicester, may have led to the birth of a son, Arthur Dudley. In this exquisite sequel to The Secret Diary of Anne Boleyn, Robin Maxwell fashions a stunning fictional account of the child switched at birth by a lady-in-waiting who foresaw the deleterious political consequences of a royal bastard. Set against the sweeping, meticulously rendered backdrop of court intrigues, international scandals, and England's battle against the Spanish Armada in 1588, Maxwell deftly juxtaposes Elizabeth and Leicester's tumultuous relationship with the memoirs of the adventurous son lost to them-yet ultimately discovered.

The Queen's Bastard artfully weaves two tales, the first told by Arthur Dudley himself, who, exchanged at birth by Elizabeth's intimates for a stillborn infant, grows up as a country gentleman, never knowing his true identity. A dreamer, a romantic, and a magnificent horseman, Arthur sets off to fight Philip II of Spain. Meanwhile, the lifelong love affair of Elizabeth and Leicester has only been strengthened by the presumed loss of their child. The two narratives collide when Arthur learns who his true parents are. Religion, sex, and the sixteenth century's most fascinating personalities are woven into a rich tapestry of betrayal, the quest for power, and love."
Darcy's Voyage by Kara Louise: 1.99
Synopsis (From the Publisher):
"A Tale of Uncharted Love on the Open Seas
In this enchanting and highly original retelling of Jane Austen's Pride and Prejudice, Elizabeth Bennet sets out for the new world aboard the grand ship Pemberley's Promise. She's prepared for an uneventful voyage until a chance encounter with the handsome, taciturn Mr. Darcy turns her world upside down.
When Elizabeth falls ill, Darcy throws convention overboard in a plan that will bind them to each other more deeply than he ever could have imagined. But the perils of their ocean voyage pale in comparison to the harsh reality of society's rules that threaten their chance at happiness. When they return to the lavish halls of England, will their love survive?"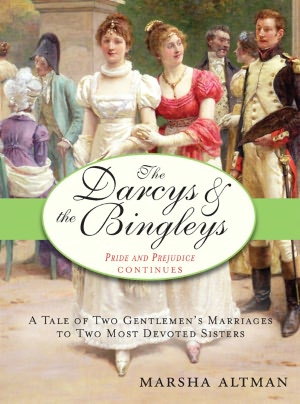 The Darcys & the Bingleys by Marsha Altman: 1.99
Synopsis (From the Publisher):
"A Tale of Two Gentlemen's Marriages to Two Most Devoted Sisters
Three days before their double wedding, Charles Bingley is desperate to have a word with his dear friend Fitzwilliam Darcy, seeking advice of a most delicate nature. Bingley is shocked when Darcy gives him a copy of an ancient, illustrated book of sensual secrets-but it does tell him everything he needs to know.
Eventually, of course, Jane finds this remarkable volume and in utmost secrecy shows it to her dear sister Elizabeth, who goes searching for a copy in the Pemberley library...
By turns hilarious and sweet, The Darcys & the Bingleys follows the two couples and the cast of characters surrounding them. Miss Caroline Bingley, it turns out, has such good reasons for being the way she is that the reader can't help but hold her in charity. Delightfully, she makes a most eligible match, and in spite of Darcy's abhorrence of being asked for advice, he and Bingley have a most enduring and adventure-prone friendship."
Mr. & Mrs. Fitzwilliam Darcy, Two Shall Become One by Sharon Lathan: 1.99
Synopsis (From the Publisher):
"Sharon Lathan presents Mr. & Mrs. Fitzwilliam Darcy, A fascinating portrait of a timeless, consuming love - and the sweetest, most romantic Jane Austen sequel.
It's Darcy and Elizabeth's wedding day, and the journey is just beginning as Jane Austen's beloved Pride and Prejudice characters embark on the greatest adventure of all: marriage and a life together filled with surprising passion, tender self-discovery, and the simple joys of every day.
As their love story unfolds in this most romantic of Jane Austen sequels, Darcy and Elizabeth reveal to each other how their relationship blossomed. From misunderstanding to perfect understanding and harmony, theirs is a marriage filled with romance, sensuality, and the beauty of a deep, abiding love."
Child of the Northern Spring by Persia Woolley: 1.99
Synopsis (From the Publisher):
"Among the first to look at the story of Camelot through Guinevere's eyes, Woolley sets the traditional tale in the time of its origin, after Britain has shattered into warring fiefdoms.
Hampered by neither fantasy nor medieval romance, this young Guinevere is a feisty Celtic tomboy who sees no reason why she must learn to speak Latin, wear dresses, and go south to marry that king. But legends being what they are, the story of Arthur's rise to power soon intrigues her, and when they finally meet, Guinevere and Arthur form a partnership that has lasted for 1500 years.
This is Arthurian epic at its best-filled with romance, adventure, authentic Dark Ages detail, and wonderfully human people."
The Last Pendragon by Sarah Woodbury: 2.99
Synopsis (From the Publisher):
"Set in 7th century Wales, the Last Pendragon is the story of Cadwaladr ap Cadwallon (Cade)--heir to the throne of Arthur--and of Rhiannon, the bastard daughter of the man who usurped Cade's father's throne. Born to rule, yet without a kingdom, Cade must learn to be both Christian king and pagan hero, and Rhiannon must decide how much she is willing to risk to follow her heart."
The Kingmaking by Helen Hollick: 1.99




Synopsis (From the Publisher):
"Who was THE MAN
Who became THE LEGEND
We know as KING ARTHUR?
"You are the Pendragon, rightful Lord of Dumnonia and the Summer Land; Lord of less Britain. By all that is right, you ought be seated where Vortigern sits . . . You ought to be King."
Here lies the truth of the Lord of the Summer Land.
This is the tale of Arthur flesh and bone. Of the shaping of the man, both courageous and flawed, into the celebrated ruler who inspired armies, who captured Gwenhyfar's heart, and who emerged as the hero of the Dark Ages and the most enduring hero of all time.
This is the unexpected story of the making of a king - the legend who united all of Britain."