Every Wednesday I will be posting the upcoming historical fiction &
historical
non-fiction releases for the coming week.
Mozart's Last Aria
by Matt Rees
Publish Date: November 1st 2012
Format: Paperback 336pp
Synopsis (From the Publisher):
"The news arrives in a letter to his sister, Nannerl, in December 1791. But the message carries more than word of Nannerl's brother's demise. Two months earlier, Mozart confided to his wife that his life was rapidly drawing to a close . . . and that he knew he had been poisoned.
In Vienna to pay her final respects, Nannerl soon finds herself ensnared in a web of suspicion and intrigue—as the actions of jealous lovers, sinister creditors, rival composers, and Mozart's Masonic brothers suggest that dark secrets hastened the genius to his grave. As Nannerl digs deeper into the mystery surrounding her brother's passing, Mozart's black fate threatens to overtake her as well.
Transporting readers to the salons and concert halls of eighteenth-century Austria, Mozart's Last Aria is a magnificent historical mystery that pulls back the curtain on a world of soaring music, burning passion, and powerful secrets."
---------------------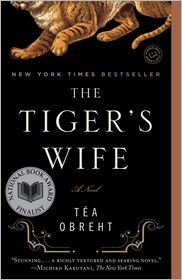 The Tiger's Wife
by Tea Obreht
Publish Date: November 1st 2012
Format: Paperback 368pp
Synopsis (From the Publisher):
"Weaving a brilliant latticework of family legend, loss, and love, Téa Obreht, the youngest of The New Yorker's twenty best American fiction writers under forty, has spun a timeless novel that will establish her as one of the most vibrant, original authors of her generation.
In a Balkan country mending from years of conflict, Natalia, a young doctor, arrives on a mission of mercy at an orphanage by the sea. By the time she and her lifelong friend Zóra begin to inoculate the children there, she feels age-old superstitions and secrets gathering everywhere around her. Secrets her outwardly cheerful hosts have chosen not to tell her. Secrets involving the strange family digging for something in the surrounding vineyards. Secrets hidden in the landscape itself.
But Natalia is also confronting a private, hurtful mystery of her own: the inexplicable circumstances surrounding her beloved grandfather's recent death. After telling her grandmother that he was on his way to meet Natalia, he instead set off for a ramshackle settlement none of their family had ever heard of and died there alone. A famed physician, her grandfather must have known that he was too ill to travel. Why he left home becomes a riddle Natalia is compelled to unravel.

Grief struck and searching for clues to her grandfather's final state of mind, she turns to the stories he told her when she was a child. On their weeklytrips to the zoo he would read to her from a worn copy of Rudyard Kipling's The Jungle Book, which he carried with him everywhere; later, he told her stories of his own encounters over many years with "the deathless man," a vagabond who claimed to be immortal and appeared never to age. But the most extraordinary story of all is the one her grandfather never told her, the one Natalia must discover for herself. One winter during the Second World War, his childhood village was snowbound, cut off even from the encroaching German invaders but haunted by another, fierce presence: a tiger who comes ever closer under cover of darkness. "These stories," Natalia comes to understand, "run like secret rivers through all the other stories" of her grandfather's life. And it is ultimately within these rich, luminous narratives that she will find the answer she is looking for."
---------------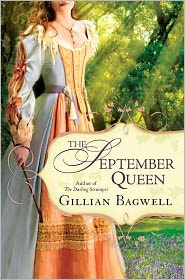 The September Queen
by Gillian Bagwell
Publish Date: November 1st 2012
Format: Paperback 400pp
Synopsis (From the Publisher):
"Charles II is running for his life-and into the arms of a woman who will risk all for king and country.
Jane Lane is of marrying age, but she longs for adventure. She has pushed every potential suitor away-even those who could provide everything for her. Then one day, adventure makes its way to her doorstep, and with it comes mortal danger...
Royalists fighting to restore the crown to King Charles II implore Jane to help. Jane must transport him to safety, disguised as a manservant. As she places herself in harm's way, she finds herself falling in love with the gallant young Charles. And despite his reputation as a breaker of hearts, Jane finds herself surrendering to a passion that will change her life forever."
-------------
Publish Date: November 1st 2012
Format: Paperback 544pp
Synopsis (From the Publisher):
"Surrounded by traitors, trapped by destiny, Britain's spirited Queen Guinevere recounts the last, dramatic years of Camelot. At King Arthur's side, she reigned over the fabled heroes of the Round Table as her heartbreaking honesty, courage, and integrity were challenged by those she loved most. Torn between duty and desire as he rescued his Queen, condemned to the stake for treason, Lancelot swept her away as she bartered her soul to save Arthur and Camelot from the furies of fate. This is Arthurian epic at its best–filled with romance, adventure, authentic Dark Ages detail, and wonderfully human people."
Copyright © 2011 Svea Love. All Rights Reserved.