Hello everyone! Another week has flown by at a stunning rate... I should probably be used to that by now, lol. Besides the time flying by, the weather has been quite random with it being sunny and hot followed by thunderstorms
, but it has made for some great settings to read by.
This week I was delighted to find two books on sale that have been on my TBR list since their release!
Synopsis (From the Publisher):
"An inventive and vibrant historical novel about the woman who dared to be the equal of the Bard of Avon.
Dramatizing a marriage born of passion and strained by ambition, Arliss Ryan's fascinating historical novel chronicles a love affair for the ages, and the story of a woman who dares to fulfill her own surprising destiny.
Anne Hathaway is weighing her prospects for marriage when a dalliance with young Will Shakespeare, the poetry-writing son of a rural glove- maker, leaves her pregnant and wed. When Will joins a traveling acting troupe and moves to London, Anne leaves their children in his parents' care and boldly follows him.
Taking up a new identity at Will's side, Anne supports his career as a struggling actor by sewing costumes and transcribing manuscripts in the rough-and-tumble world of London's theatres. As Will finds his true calling in writing, Anne's own literary skills begin to flower, leading to a secret collaboration that makes Will the foremost playwright in Elizabethan England."
Synopsis (From the Publisher):
"The story of Elizabeth I, as it's never been told before-through the eyes of two ladies-in-waiting closest to her...
In a court filled with repressed sexual longing, scandal, and intrigue, Lady Katherine Grey is Elizabeth's most faithful servant. When the young queen is smitten by the dashing Robert Dudley, Katherine must choose between duty and desire-as her secret passion for a handsome earl threatens to turn Elizabeth against her. Once the queen becomes a bitter and capricious monarch, another lady-in-waiting, Mistress Mary Rogers, offers the queen comfort. But even Mary cannot remain impervious to the court's sexual tension-and as Elizabeth gives her doomed heart to the mercurial Earl of Essex, Mary is drawn to the queen's rakish godson..."
Don't forget to check out the ongoing book tour for Margaret George's latest novel, Elizabeth I.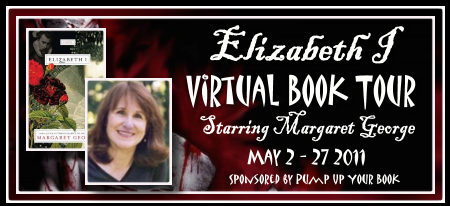 Here is what has occurred so far:
Have any of you been watching the new series
Camelot
on Starz? I am really enjoying the series and while I was annoyed with the casting choice for Arthur, my opinion of him has managed to improve with every episode.
Well that about sums up the week, until next time, have a lovely week and happy reading!
Copyright © 2011 Svea Love. All Rights Reserved.
In the "Name" box, please enter either your name or your blog's name.
In the "URL" box please enter the link that will lead directly to your meme post.