Suddenly Sunday is a weekly event hosted by Svea@ The Muse in the Fog Book Review. The purpose of Suddenly Sunday is to share all the exciting events that have occurred on your blog throughout the week.
Good morning my blogosphere companions! I am in shock that this is the last weekend of May, yet I am insanely excited because I will be leaving on vacation in a couple weeks, and you know what that means... yep, lots and lots of reading by the pool (hopefully the books will be safe this year, they aren't very good swimmers). In the midst of a busy week traveling to see family, I was able to accomplish a more than I thought possible here on the blog. So, before the rain outside lulls me to sleep, let me give you a recap of what has been going on here at Muse in the Fog:
As I said in an earlier post, I have been contemplating changing the name of my blog for quite some time, and now I have finally done just that. I am happy to announce that this blog is now officially titled:
The Muse in the Fog Book Review.
Now, a change like this must be thorough, so below are my updated items for this blog.
A new Facebook page for my blog.
I was unable to change the old page to coincide with the new title, so please take the time to quickly "like" the new FB page, thank you!
A new blog button, reflecting the new blog title!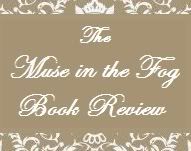 And the blog tweaking does not stop at the name change! It has recently come to my attention that this blog was unable to be read on tablet devices, such as the ipad, and also mobile devices did not particularly like downloading all the graphics. After learning of these pesky issues I couldn't stand knowing that some of my wonderful followers couldn't enjoy the blog they once did. Therefore, this weekend I embarked on a task of making this blog compatible with every browser and reading device; so if you have had issues viewing my blog in the past, this weekend was spent with you in mind :) I am now confident that everything is in order, but if any of you ever have trouble viewing my blog in the future just let me know, after all, I wan't The Muse in the Fog Book Review to be a place for your constant reading enjoyment!
That wraps up this edition of Suddenly Sunday from rainy California, I look forward to hearing what has been going on in your part of the blogging realm. Until next time, have a great week & happy reading!
Copyright © 2011 Svea Love. All Rights Reserved.
In the "Name" box, please enter either your name or your blog's name.
In the "URL" box please enter the link that will lead directly to your meme post.