I am delighted to have the very talented Kate Emerson join us today on Confessions and Ramblings of a Muse in the Fog! Her latest novel, Secrets of the Tudor Court: By Royal Decree, is the third installment in her Secrets of the Tudor Court series.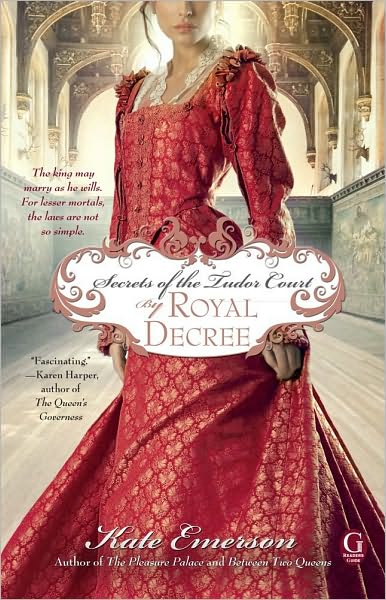 And now, without further ado, I hand it over to Kate.
Merry Christmas from Henry VIII's England
As Kate Emerson I write the "Secrets of the Tudor Court" series set in Henry VIII's England and although the most recent entry, BY ROYAL DECREE, doesn't have any particular connection to the Yuletide season, I've done a fair amount of research into how the holidays were celebrated. I knew that Christmas trees were a Victorian invention, but the one thing that did surprise me was that mistletoe wasn't yet in use either. So much for using a kissing ball to get my characters together!
Even without those two traditional parts of Christmas, sixteenth-century England still had plenty of Yuletide customs. Revelers would get the season off to a good start by going into the woods to find a Yule log, which they'd drag home, singing about the holly and the ivy. The holly was used to decorate the interior of the house; the ivy adorned the outside of the door. The Yule log itself was set ablaze with a fragment of the previous year's log, saved just for that purpose.
At about the same time, in many communities, the parish hogglers came calling to solicit contributions for the local church. This tradition is probably a variant on wassailing, where groups singing carols were invited in to sip a special Christmas punch called wassail.
The Great Hall of a typical Tudor manor house would be decorated with boughs of holly—and yew, bay, rosemary, and box, too. In another room, flowers might be twined around and through the spinning wheel in the corner—it would not be used again until Plough Monday, the first Monday after Twelfth Night. During Yuletide, all but the most necessary work—cooking and caring for animals—was forbidden.
On Christmas Day, there was feasting, with a Lord of Misrule to act as master of ceremonies in the largest houses. Even lesser gentry celebrated with minced pies made with dried fruits and spices and mutton (in remembrance of the shepherds). Each pie contained thirteen different ingredients, one each to represent Christ and his apostles. There was brawn, too, with mustard. And bread and cheese and fruit and nuts and spiced ale that had roast apples floating in it. But the much-anticipated centerpiece in many households was carried in on a huge platter. It held a large pastry case surrounded by jointed hare, small game birds, and wild fowl. Inside the pastry was a turkey that had been stuffed with a goose that had been stuffed with a chicken that had been stuffed with a partridge that had been stuffed with a pigeon.
New Year's Day, not Christmas, was the traditional time for the exchange of gifts, and in some rural communities it was also the day on which everyone went out into the orchard to wassail the trees. I think this is my favorite tradition, and it is still carried on in some areas of England today. To ensure a good crop for the next year's cider, villagers turn out to wish the trees good health and abundant crops. The celebration begins shortly after sundown, in front of the oldest tree in the orchard. A crust of bread is fished out of the bottom of a large wooden wassail bowl and placed it in the crook of the tree. Then loud noises fill the air—drums and horns and people banging on pans with ladles. Someone pours mulled cider around the base of the tree as the crowd begins to sing: "Old apple tree we wassail thee, hoping thou will bear."
I wassail thee, dear reader. Happy Yuletide.
Kate Emerson (aka Kathy Lynn Emerson and Kaitlyn Dunnett)
Thank you Kate for stopping by and sharing with us this delightful post! A very happy Yultide to you as well!
--------------
And now for some exciting news! Kate had been gracious in offering a signed copy of
Secrets of the Tudor Court: By Royal Decree
to one lucky winner!
Publish Date: December 2010
Format: Paperback 353pp
Synopsis: (From the Publisher):
"AS TEMPESTUOUS AS THE TUDOR MONARCHS THEMSELVES, THE SECRETS OF THE TUDOR COURT SERIES HAS BEEN CALLED "RIVETING" (BOOKLIST) AND "WELL DRAWN" (PUBLISHERS WEEKLY).
Charming. Desirable. Forbidden. Brought to court with other eligible young noblewomen by the decree of King Henry VIII, lovely Elizabeth "Bess" Brooke realizes for the first time that beauty can be hazardous. Although Bess has no desire to wed the aging king, she and her family would have little choice if Henry's eye were to fall on her. And other dangers exist as well, for Bess has caught the interest of dashing courtier Will Parr. Bess finds Will's kisses as sweet as honey, but marriage between them may be impossible. Will is a divorced man, and remarriage is still prohibited. Bess and Will must hope that the king can be persuaded to issue a royal decree allowing Will to marry again . . . but to achieve their goal, the lovers will need royal favor. Amid the swirling alliances of royalty and nobles, Bess and Will perform a dangerous dance of palace intrigue and pulse-pounding passions.
Brought to glowing life by the talented Kate Emerson, and seen through the eyes of a beautiful young noblewoman, By Royal Decree illuminates the lives of beautiful young courtiers in and out of the rich and compelling drama of the Tudor court."
Giveaway Guidelines:
+1 entry for posting a comment and leaving your e-mail. (no e-mail = no entry)
+5 entries for becoming a Follower, or already being a Follower. (if possible, please follow through "google friend connect" so I can verify)
+ 3 entries for posting about this giveaway on your blog or adding a link for it on your sidebar. (please post link with your comment)
+ 1 entry for tweeting about this giveaway. (please post link with your comment)
~Please post all your entries in one comment, thanks :)
~This will be an
international
drawing!
~Giveaway ends January 7th
Copyright © 2010 Svea Love. All Rights Reserved.