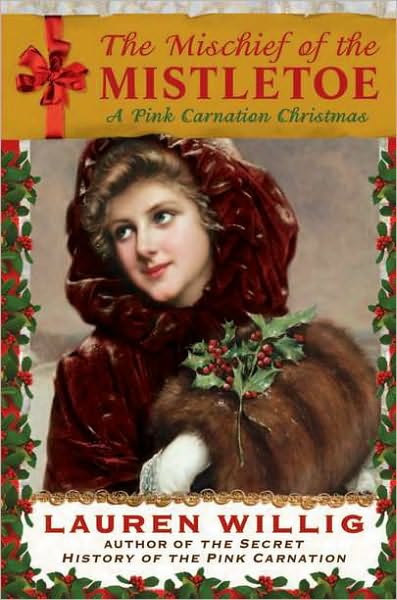 Publish Date: October 28th 2010
Format: Hardcover 352pp
Synopsis: (From the Publisher)
" 'Tis the season to get Pink! Lauren Willig's beloved Pink Carnation series gets into the holiday spirit with this irresistible Regency Christmas caper.
Arabella Dempsey's dear friend Jane Austen warned her against teaching. But Miss Climpson's Select Seminary for Young Ladies seems the perfect place for Arabella to claim her independence while keeping an eye on her younger sisters nearby. Just before Christmas, she accepts a position at the quiet girls' school in Bath, expecting to face nothing more exciting than conducting the annual Christmas recital. She hardly imagines coming face to face with French aristocrats and international spies...
Reginald "Turnip"Fitzhugh-often mistaken for the elusive spy known as the Pink Carnation- has blundered into danger before. But when he blunders into Miss Arabella Dempsey, it never occurs to him that she might be trouble. When Turnip and Arabella stumble upon a beautifully wrapped Christmas pudding with a cryptic message written in French, "Meet me at Farley Castle," the unlikely vehicle for intrigue launches the pair on a Yuletide adventure that ranges from the Austens'modest drawing room to the awe-inspiring estate of the Dukes of Dovedale, where the Dowager Duchess is hosting the most anticipated event of the year: an elaborate twelve-day Christmas celebration. Will they find poinsettias or peril, dancing or danger? Is it possible that the fate of the British Empire rests in Arabella's and Turnip's hands, in the form of a festive Christmas pudding?"
My Review:
Just in time for some holiday cheer, Lauren Willig has given us a gift full of wit and suspense with her newest novel,
The Mischief of the Mistletoe
.
We first meet Arabella Dempsy as she secures a position, much to the dismay of her friend Jane Austen, at Miss Climpson's Select Seminary for Young Ladies. Being thoroughly warned of the hazards of teaching energetic young females, Arabella is prepared for whatever may come her way... that is until common school-girl pranks take on a sinister dimension.
Aided by the blundering yet dashing "Turnip" Fitzhugh, Arabella sets out on a mission to find out just who is tormenting her so. But when Arabella refuses to agree that the events are the dangerous work of spies, she risks alienating herself from the one person who can save her.
Filled with dastardly Christmas puddings, nefarious shepherds and a 12 days of Christmas extravaganza for every possible hazard,
The Mischief of the Mistletoe
is sure to have you laughing all the way and enjoying Christmas puddings with a whole new flavor!
Lauren Willig has created another spectacular read with
The Mischief of the Mistletoe
! As soon as I read the first few pages, I knew I was in for a great read; which was confirmed by the instant smile on my face whenever I picked the book up. The main characters were well detailed and the chaotic scenes easily consumed you, as if you were really there. If you want a book that has a little bit of everything, this is the one for you! There was the perfect mixture of hilarious phrases, random objects with special purposes, romance and intrigue. I can not speak highly enough of this book and I would definitely recommend it to anyone.
FTC: I received this book from the publisher. As always, these are my own honest opinions.
Copyright © 2010 Svea Love. All Rights Reserved.