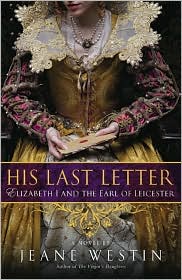 Publish: August 2010
Format: Paperback 400pp
Synopsis: (From the Publisher)
"One of the greatest loves of all time-between Elizabeth I and Robert Dudley-comes to life in this vivid novel.
They were playmates as children, impetuous lovers as adults-and for thirty years were the center of each others' lives. Astute to the dangers of choosing any one man, the Virgin Queen could never give her "Sweet Robin" what he wanted most-marriage- yet she insisted he stay close by her side. Possessive and jealous, their love survived quarrels, his two disastrous marriages to other women, her constant flirtations, and political machinations with foreign princes.
His Last Letter tells the story of this great love... and especially of the last three years Elizabeth and Dudley spent together, the most dangerous of her rule, when their passion was tempered by a bittersweet recognition of all that they shared-and all that would remain unfulfilled."
My Review:
Having just defeated the Spanish Armada, Elizabeth I's spirits could not be higher; that is until she receives word that her long time love, Robert Dudley, has perished. All of her joy and laughter quickly vanishes and she is thrown into deep despair. As she is drawn into her private chambers by loyal subjects, we are taken on a journey through the final years of Elizabeth I and Robert Dudley's erratic and passionate relationship.
Jeane Westin has brought Elizabeth I and Robert Dudley to life in this touching and absorbing novel. Focusing mainly on the relationship between these two characters, we see the events of that time period unfold through their eyes. Elizabeth I is not merely portrayed as a strong and fearless queen, but also as a woman, one who has desires and fears just as any other.
The book moved at a fast pace and there was never a dull moment. Towards the end I found myself trying to read a bit slower because I did not want their story to end! My only issue with this novel was the switching between past and present. Although it was done in a very fluid manner, I often found that if I put the book down and picked it back up the next day, I would be a bit confused if I was in the past or present. These instances were quickly resolved and quickly forgotten.
Overall this was an excellent read and one that will have you closing the book completely satisfied. Having not read much on Elizabeth I, I can definitely say that this novel has piqued my interest and I will definitely be reading more about this great monarch.