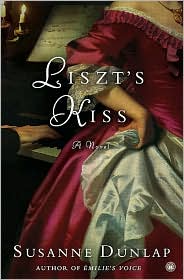 My 1st giveaway! I have one copy of Lizt's Kiss to give away.

One winner will be chosen at random by a drawing.

Winner will be announced January 25th.

Synopsis
: (from the publisher)
The romantic story of a young female pianist in cholera-ravaged Paris of 1832, whose own tragedy leaves her susceptible to the passions and scandals of the composer Franz Liszt
At the height of the Romantic era in Paris, there was no bigger celebrity than the composer and pianist Franz Liszt. A fiery and gorgeous Hungarian, he made women swoon at soirees and left a trail of broken hearts behind him. Anne, a countess and talented young pianist whose mother has just died of cholera, hears Franz Liszt in concert and is swept up in his allure. The enigmatic Marie d'Agoult, a friend of Anne's late mother, takes her under her wing and introduces her to the artistic world -- despite the objections of Anne's sullen and sorrowful father.
Anne soon finds herself in the midst of dangerous intrigues, discovering a family secret so shocking that her father will go to any lengths to protect it.
With the ominous presence of Paris's most deadly epidemic looming over every turbulent event, Liszt's Kiss is a rich evocation of a remarkable period as seen through the eyes of a sensitive young artist.
Giveaway Guidelines:

-10 possible entries-

+1 entry for posting a comment.
+5 entries for becoming a Follower, or already being a Follower.
+ 3 entries for posting about this giveaway on your blog. (please post link with your comment)

+ 1 entry for linking this giveaway to your sidebar. (please post link with your comment)

This auction will be open to USA residents only.

Good Luck everyone!!!